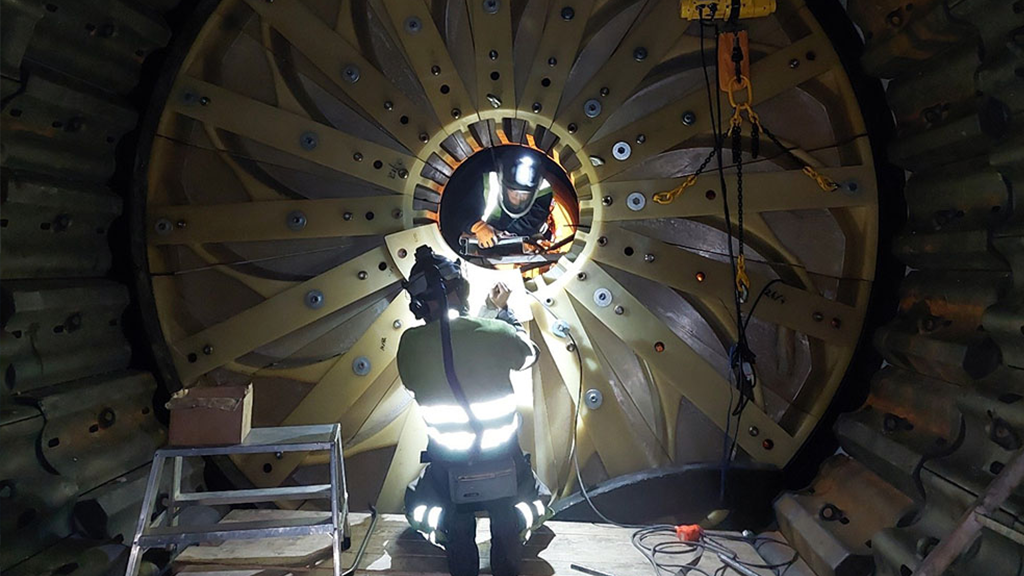 Teknikum Mining product partners serve in Sweden
This article was first published in Bergsmannen Magazine 7/22
In September 2022, Teknikum introduced its renewed TITAN™ GREEN & SMART Hoses and Rubber Lined Pipes offering. The high-quality abrasive material handling hoses and bends are popular solutions due to their long service life and sustainability. The use of the best raw materials, now both renewable and recycled, as well as the offering of expert field-services and engineering know-how ensure best possible customer experience.
In Sweden, Teknikum hose products are available via local partner GMK Group. Teknikum's mill lining products and rubber lined pipes are available via local partner Industry Spares Sweden AB.
For over +30 years Teknikum has differentiated from the competition with agile services and offering of the extremely durable CERAMIC smart hoses, wide range of lining rubbers, rubber lined pipes and customer-specific solutions. Teknikum's customer base represent various demanding industries, Mining being one of the major ones. Teknikum's mission is to drive sustainability in the industry.
As an example of recent product development, Teknikum brings GREEN & SMART products to the market.
The new hoses include an option of cover rubber Teknikum WearBlack™ NR recycled. This black compound includes 60% renewable natural rubber materials of which 15% is recycled. The compound is highly durable and suitable for abrasive materials. It's designed for Teknikum GRANIT®, TITAN™ Abrasive hoses and CARBON™ Working hose series. Additionally, Teknikum wear and tear resistant hoses inner rubber options include up to 80% renewable natural rubber.
GREEN & SMART from the pioneer of CERAMIC hoses
One of the pioneering Teknikum hose products is the flexible, but robust CERAMIC hose. The inner lining provides up to 3-10 times the life of a rubber hose or metal tube, depending on the material being transferred. This solution is great, sustainable and long-life option, for slurry and very abrasive substances.
The GREEN & SMART hoses are the next step from the industry pioneering company.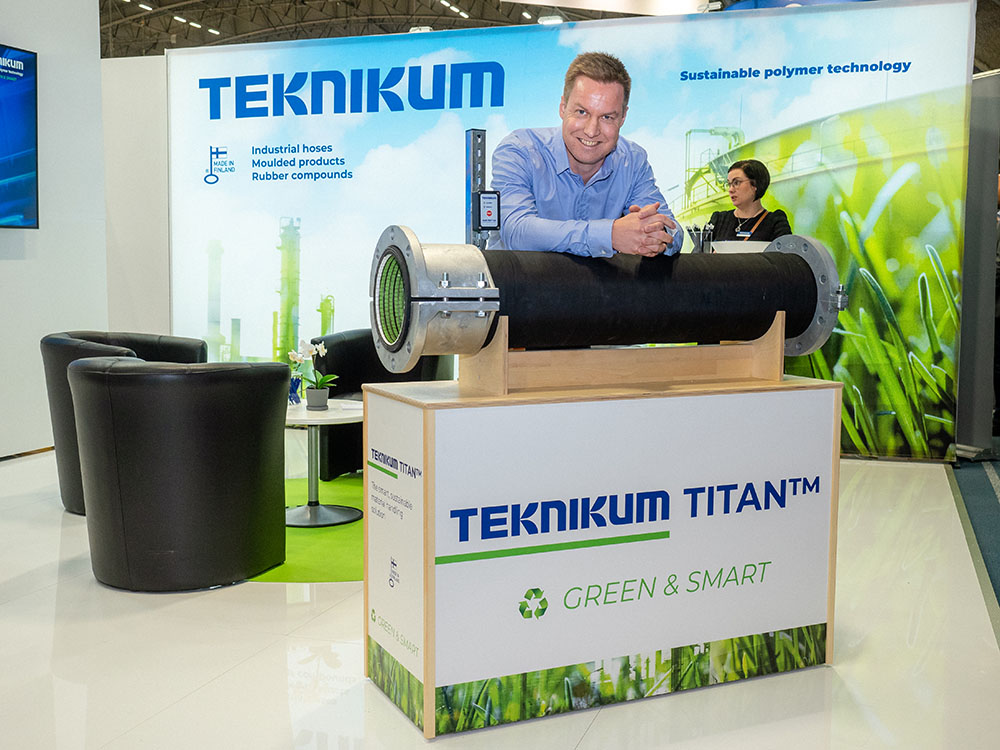 Mr. Timo Kokkonen, Business Unit Director of Hoses of Teknikum Group, and the renewed Teknikum TITAN™ GREEN & SMART abrasive hose manufactured with 15% recycled cover rubber, long-life CERAMIC inner lining and Smart Hose system enabling wear indication.
"I am really proud and excited. This is the beginning of new green era. This product, for example, uses 15 percent recycled material. It's a great start. This is what we are going to do in the future", Mr. Timo Kokkonen, Business Unit Director of Hoses of Teknikum Group presented the GREEN & SMART hose displayed at the Subcontracting fair in Finland.
SMART hoses to level up in process flow management
Teknikum Smart Hose system enables monitoring of wear and tear of inner lining of a hose.
The system includes monitoring device and a customer specific Teknikum GRANIT® or TITAN™ hose built with monitoring cable. The hose can be selected with rubber or CERAMIC inner lining according to need.
"The system gives a signal when the hose needs to be changed to avoid breakage. Measurement takes place automatically every 60 minutes and a test measurement can be carried out at any time by pressing a button." Mr. Kokkonen tells about the system.
"Optionally the monitoring is available with single or 1-3 multilayer measurement with several cables built into the hose structure." Mr. Kokkonen explains. "This system is great for those who want to level up with the planning of maintenance stops and get rid of too frequent ones."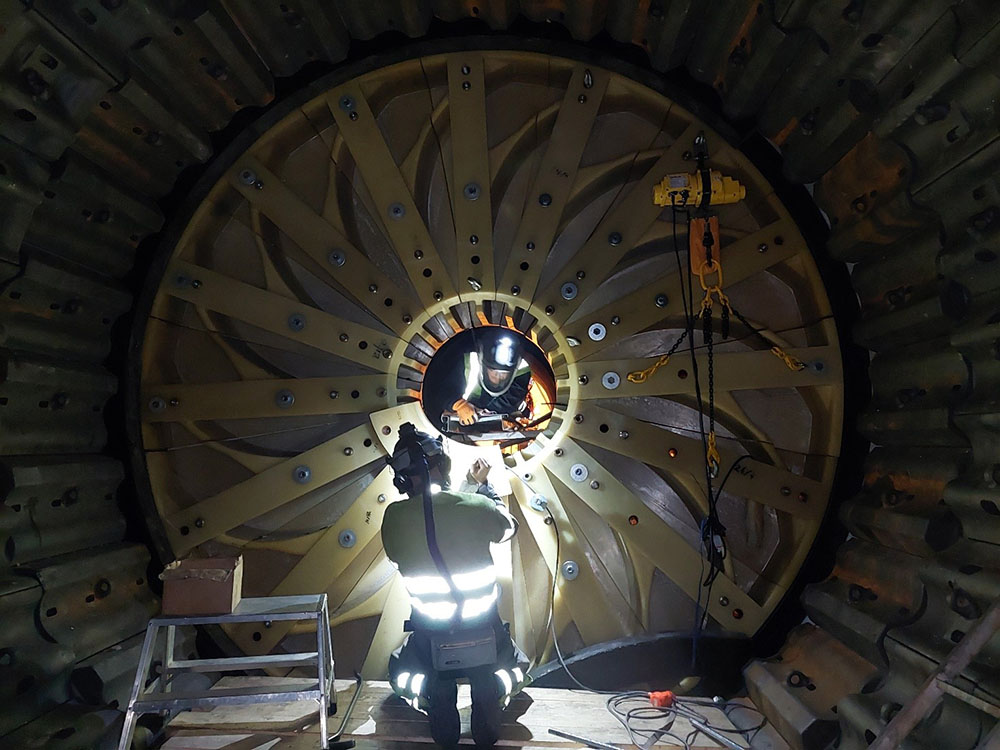 Special mill conversion projects are part of Teknikum's service offering.
Safety, innovating and engineering at the core
Teknikum is also known for its innovative Mill Lining products and safe installation services. The company manufactures Steel Top, Rubber and Polyurethane Mill Liners for mills that need grinding result optimizing. The constant problem solving is a core of competence along with wear resistant rubber compounds development and project management.
"In addition to hoses and lining, our services include manufacturing mill lining components with different reinforcements and latest fixing methods. Our safe mill lining installation services include supervision, high-quality measurement, and lifetime estimation technologies", Mr. Kokkonen tells.
"It's our target to understand each customer's process needs and deliver fitting solutions."