Teknikum® CERAMIC hoses provide superior wear-resistance for material handling
– up to 3-10 times the life of a rubber hose or metal tube, depending on the material being transferred!
Flexible, easy to handle and long life solution!
Original Teknikum® innovation!
» Suitable for extremely wearing material
» Can replace metal pipe or rubber hose
» Flexible and easy to handle
» Straight hoses and bends with firm rubber-ceramic attachment
» Size up to Ø 1000 mm with PLUS flange connector system
» Teknikum products are manufactured with more than 30 years of experience
» Ceramic hoses know-how since 2009
STANDARD
Teknikum® hose products with CERAMIC lining
Teknikum® TITAN CERAMIC – material handling hose with smooth cover *NEW*
Teknikum® GRANIT CERAMIC – material handling hose with corrugated cover
Teknikum® BLAST-TEK D Longlife – multi-functional blasting hose for both dry and wet materials
» Fast delivery from factory warehouse!
CUSTOM
Teknikum® hose products with CERAMIC lining
» When designing a suitable material handling solution, customers can choose:
the hose structure
cover (smooth/ corrugated)
straight / bend according to need
rubber grade
hose diameter and length
connectors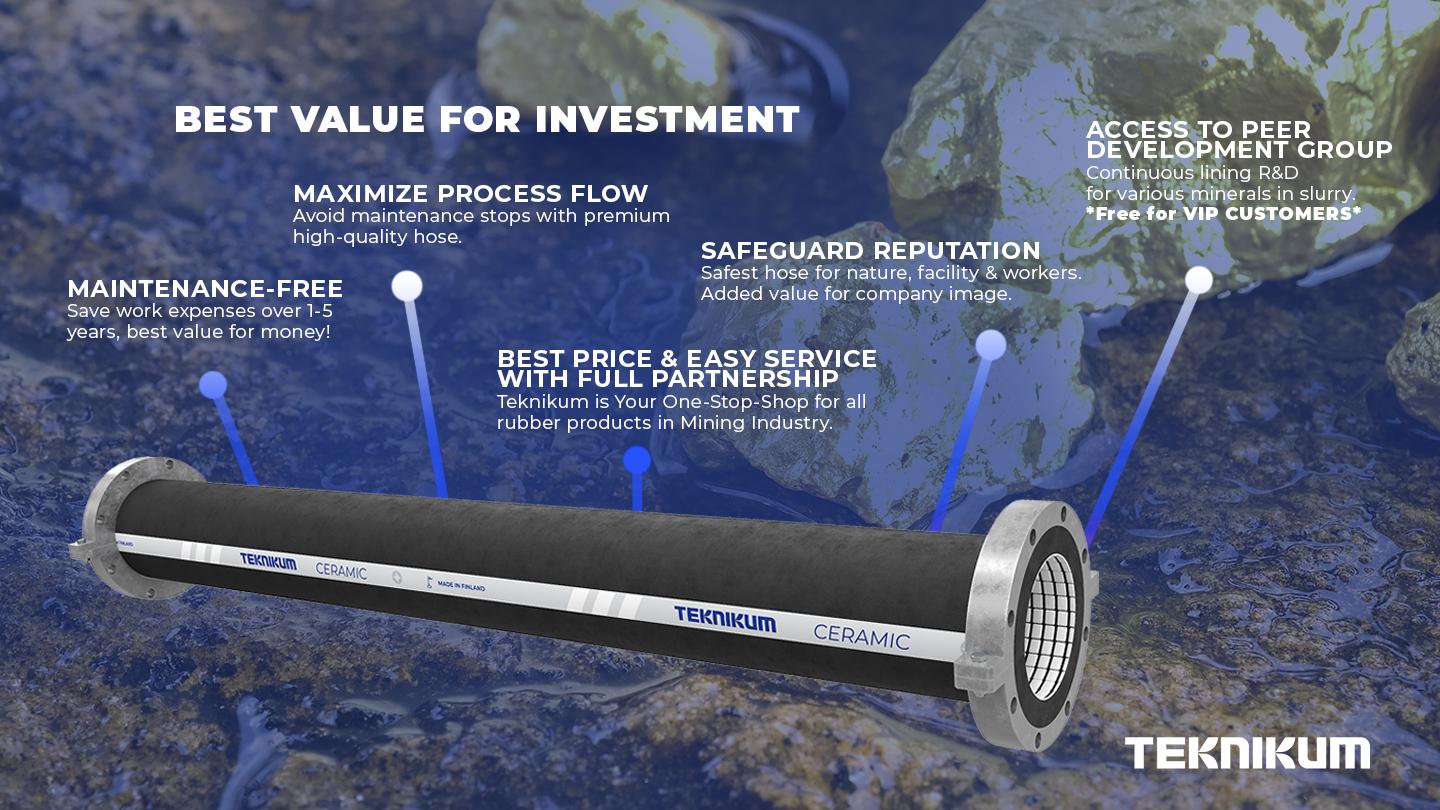 Why to select Teknikum hose?
++ Teknikum manufactures premium rubber hoses for material handling
++ Ceramic hose is original Teknikum innovation, providing 3-10 times longer life than rubber hose
++ Only Teknikum knows how to produce a high-quality ceramic lining on a curved surface
++ Ceramic hose line maintains its flexibility due to the innovative structure
++ Teknikum Ceramic hoses are available as stock product with corrugated cover (Teknikum GRANIT Ceramic) or smooth surface (Teknikum TITAN Ceramic)
++ Also custom hoses, bends and connection hoses are available with fast shipping directly from factory
++ Teknikum serves industrial plants and customers with +30 years of expertise
++ Hose couplings and flange solutions are part of Teknikum's offering
Teknikum GREEN & SMART hoses for efficient material handling!