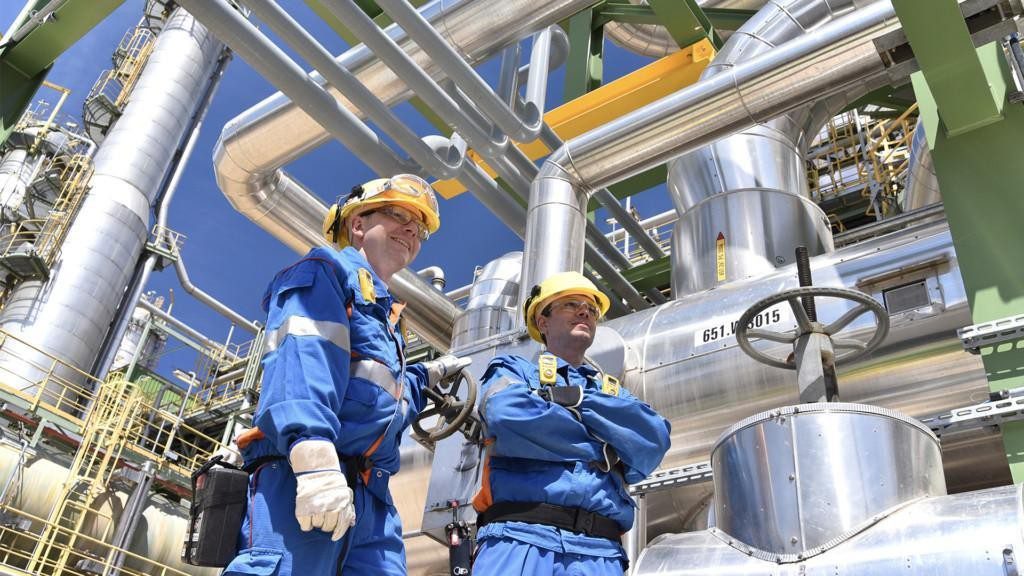 Teknikum and FlexoTech offer the greatest possible hose line safety for the chemical factories in Germany
Since 1999, FlexoTech GmbH has been one of the largest dealers for chemical hoses in Hamburg, Germany.
"After our previous hoses takeover by Continental AG decades ago, we had to find a new high-quality partner for our rubber hoses according to DIN EN 12115 due to an existing dealer network. We found Teknikum Ltd in Finland as the best result", tells Mr. Sören Rathje, the CEO of FlexoTech GmbH.
Teknikum's four manufacturing plants are located in Finland. The company's sales offices serve European market and the one specifically Central-Europe and Germany, being located in the Mülheim an der Ruhr area.
Teknikum provides FlexoTech with standard and customer specific chemical hoses. The benefits of the new offering were clear from the start.
"Teknikum offers us the complete portfolio from one source", tells Mr. Rathje.
"Starting with their own design and engineering department, through the material development and production of their own rubber compounds, to the manufacturing of the hoses – all the processes are transparent and even special customized parts can be developed quickly", Mr. Rathje describes.
"The combination with Teknikum® hoses and our own products, such as hose fittings or hose safety systems – DryCon® dry disconnect couplings – creates the best possible result for our customers: The greatest possible safety for their processes."
The combination with Teknikum® hoses and our own products, such as hose fittings or hose safety systems – DryCon® dry disconnect couplings – creates the best possible result for our customers: The greatest possible safety for their processes. 

– Mr. Sören Rathje, CEO of FlexoTech GmBH
Hose line safety provider – the assembly, inspections and maintenance
For more than 25 years, FlexoTech has been the competent partner of Chemical Industry for service and innovations around hose assemblies.
"At our location near Hamburg, we produce hose assemblies and hose safety technology for the chemical and petrochemical industry, as well as for the pharmaceutical and food industry", tells Mr. Rathje.
"Our aim is to always make the handling of liquid or gaseous media, as well as solids, safer for people and the environment", describes Mr. Rathje.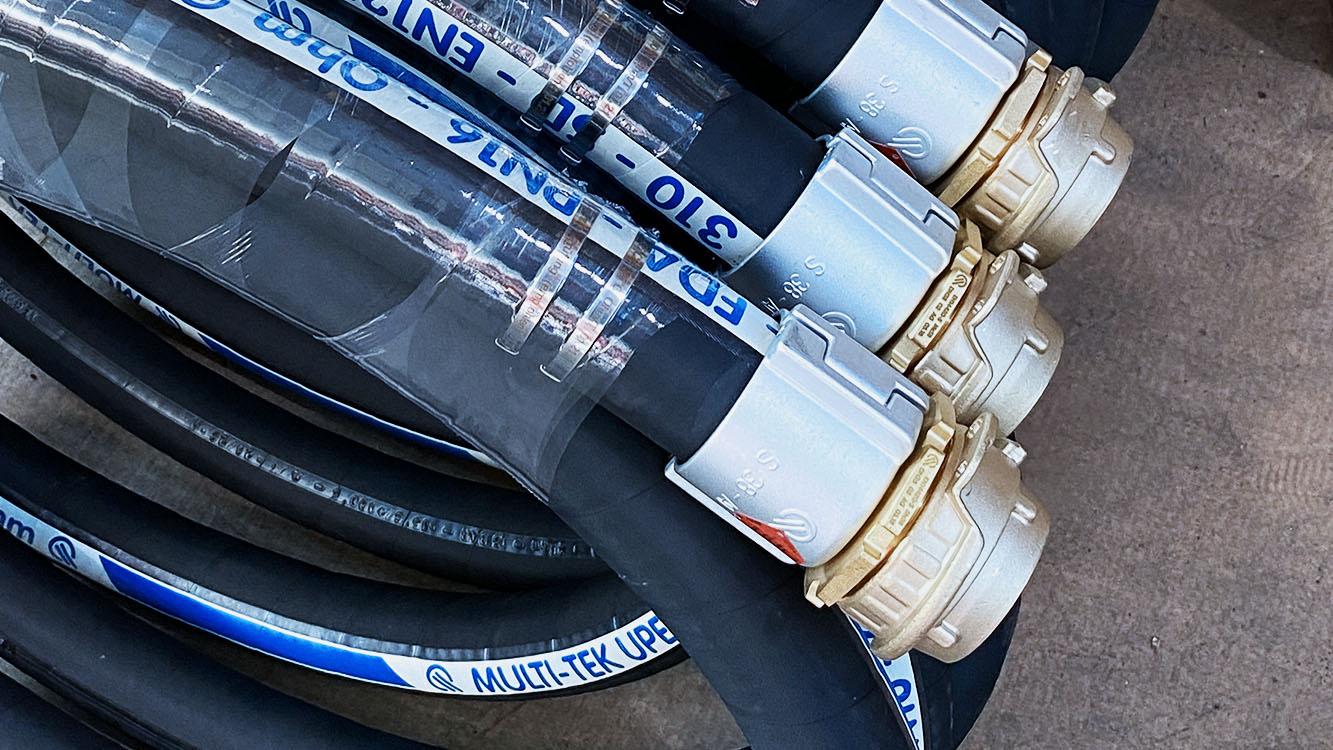 Customer specific UPE hose made by Teknikum, included with safe FlexoTech coupling.
DryCon® dry couplings and Teknikum hoses have 100% tested compliance – proven over decades
FlexoTech supplies quality from their own production.
"Whether DryCon® dry couplings, hose fittings or special designs, we offer our customers the complete package from standard products, through CAD-supported design in 3D, to production on our CNC-controlled machines", Mr. Rathje tells.
"In the field of hose safety technology, we are among the leading manufacturers in Europe with our products such as DryCon® dry couplings, SAK breakaway couplings or hose fittings. Our on-site service for hose line inspections or maintenance of dry couplings complete the range of services", Mr. Rathje says.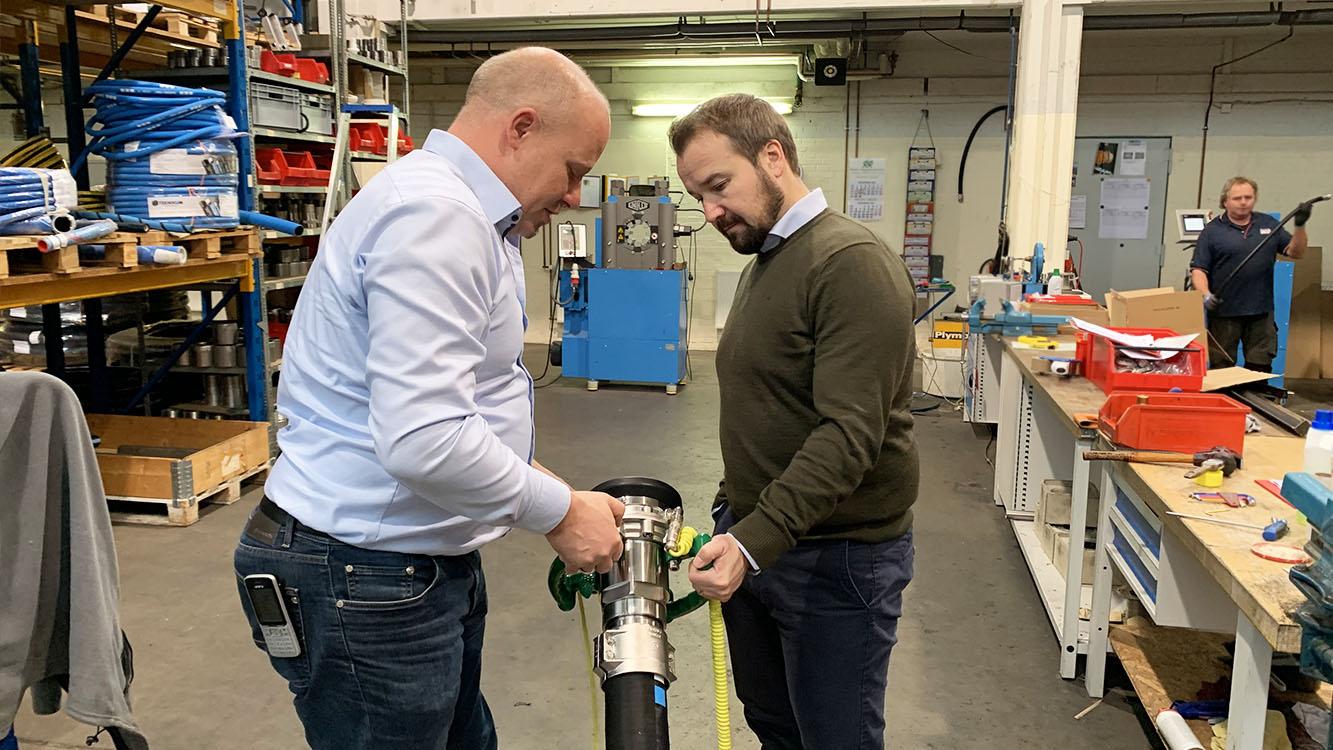 Mr. Rathje presenting Teknikum® MULTI-TEK  SD UPE hose with DryCon® coupling to Mr. Hämäläinen.
The complete solution has been tested and proven highly reliable over the years in various operating environments.
Teknikum® MULTI-TEK UPE series is the most popular multi-purpose chemical hoses product family among the FlexoTech customers in Germany. 
Teknikum hoses offer safety and quality beyond standard requirement
Mr. Rathje is very pleased with Teknikum's quality and R&D over the years.
"Hoses from Teknikum offer our customers one thing above all: safety and quality beyond the standard requirements", Mr. Rathje tells.
"Especially due to the rubber compounds used from their own production in combination with the braided fabric inserts, the hoses from Teknikum have a very small bending radius and are extremely flexible in handling. In addition, we have been able to drastically extend the service life of a hose line in very many applications, also through regular on-site service."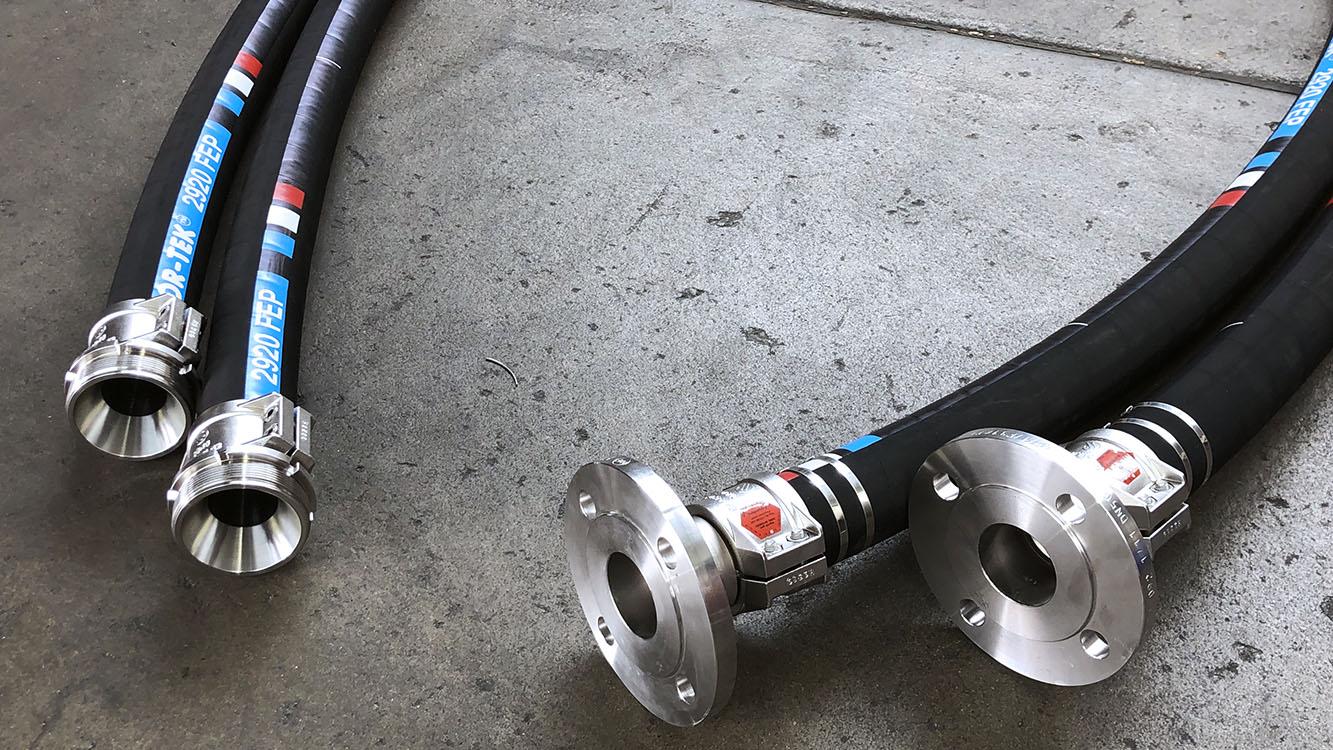 Corrosion resistant Teknikum FLUOR-TEK® SD FEP chemical hose with safe couplings installed by FlexoTech.
Complete hose line management as field-service
Every day FlexoTech receivea inquiries from the various areas of hose technology applications. Starting with the classic "replacement hose" of an existing application up to the customized adaptation of the hose assembly to the customer's application.
"Due to our large stock of hose and fittings of any connection type we can deliver standard hose assemblies within a few days. To find a solution to an existing problem, we make an on-site visit and work out the solution together with the customer", tells Mr. Rathje.
"The focus of our service is to provide our customers with the best possible solution combined with maximum safety and durability. For many customers in the chemical industry, we therefore also take over the complete hose line management. We perform the annual hose inspection on site and maintain the inventory including the provision of all test certificates and attestations."
Taking over the development of hose safety technology
Increasingly, FlexoTech also takes over the development of hose safety technology adapted to the processes of our customers. For this purpose, FlexoTech offers hose breakaway couplings or DryCon® dry couplings to prevent/minimize uncontrolled media leakage in daily use, but also in case of damage. The service of these systems is also integrated into the annual on-site inspection.
"We now sell hose assemblies and hose safety systems throughout Europe, and we are currently able to offer our on-site service in Germany as well as in the surrounding countries", tells Mr. Rathje.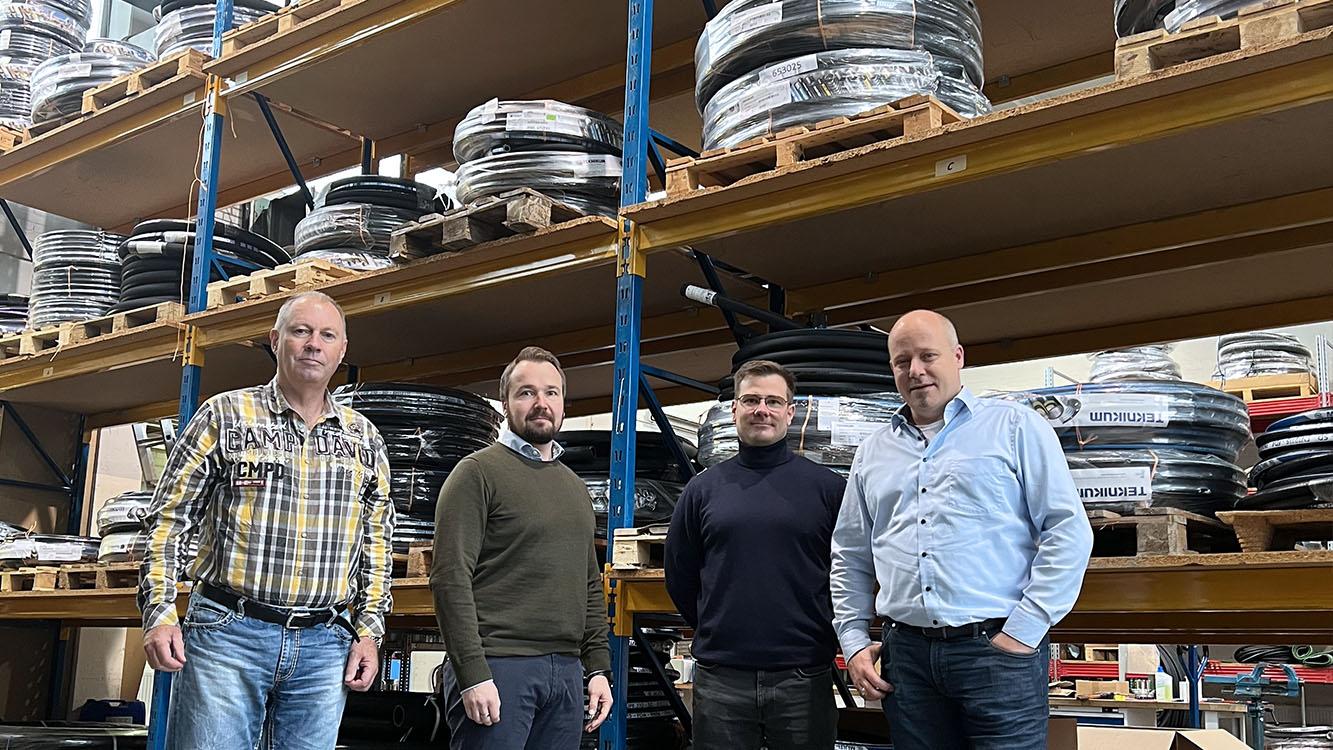 Strong partnership with hose manufacturer and local service provider is the key to superior customer service.
From left, Mr. Detlef Müller of FlexoTech, Mr. Jani Hämäläinen and Mr. Martti Jokela of Teknikum and Mr. Sören Rathje of FlexoTech.
Hose line is a system and we offer 100% tested one.
The best hose products on the market
"With our strong focus on the chemical and process industries, Teknikum® MULTI-TEK UPE, FLUOR-TEK FEP and FLUOR-TEK PTFE are among our best-selling hoses. Due to our continuous improvement and optimization of our hose fittings with safety profile (FSP – FlexoTech Safety Profile), we now deliver almost 80% of all hoses fully assembled, tested and including comprehensive documentation to our partners or even end customers", tells Mr. Rathje.
"In the process, we look after more than 1,500 hose assemblies in annual service at our customers' sites – this service is becoming more and more digitalized and from 2022 we are planning, together with Teknikum, to introduce the "intelligent hose assembly", which will significantly simplify the maintenance processes."
The best service on the market
"Together with Teknikum we would like to offer the end customer and user an all-round service for hose assemblies", tells Mr. Rathje.
"Due to more and more requirements from the legislator, hose assemblies have long since become a work tool where the focus is no longer on price, but on quality and service. We would like to offer this from a single source and bring the procurement sources back to Europe", Mr. Rathje concludes.
Read more
Contact Teknikum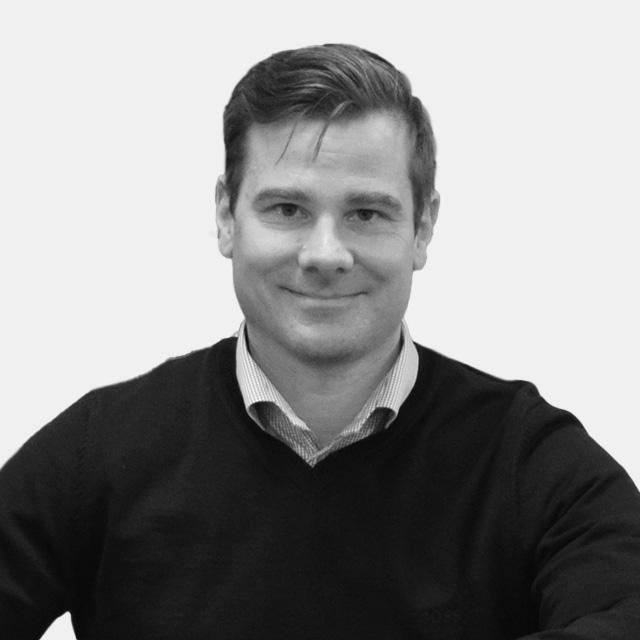 Martti Jokela
Director, New Business Development
Teknikum Group Ltd, Central Europe
firstname.lastname@teknikum.com
+358 50 306 2172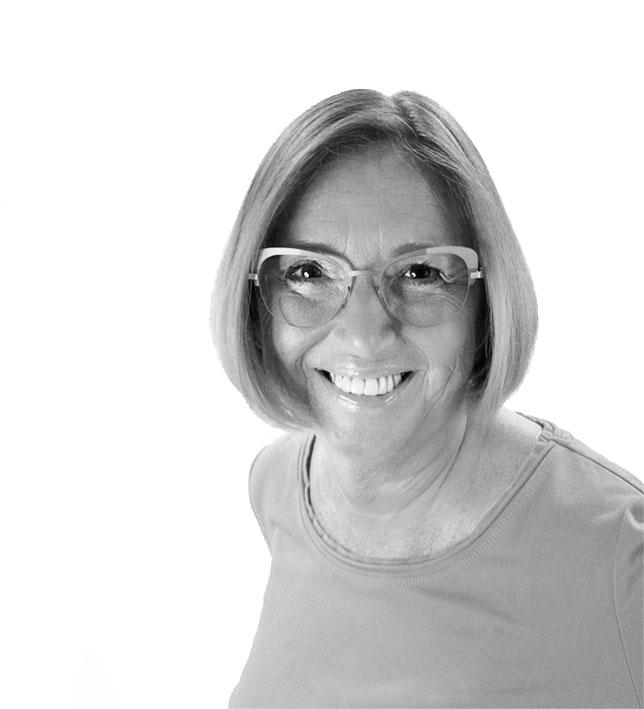 Petra Wick
GM, Teknikum Germany
Teknikum GmbH
firstname.lastname@teknikum.com
+49 173 724 5628