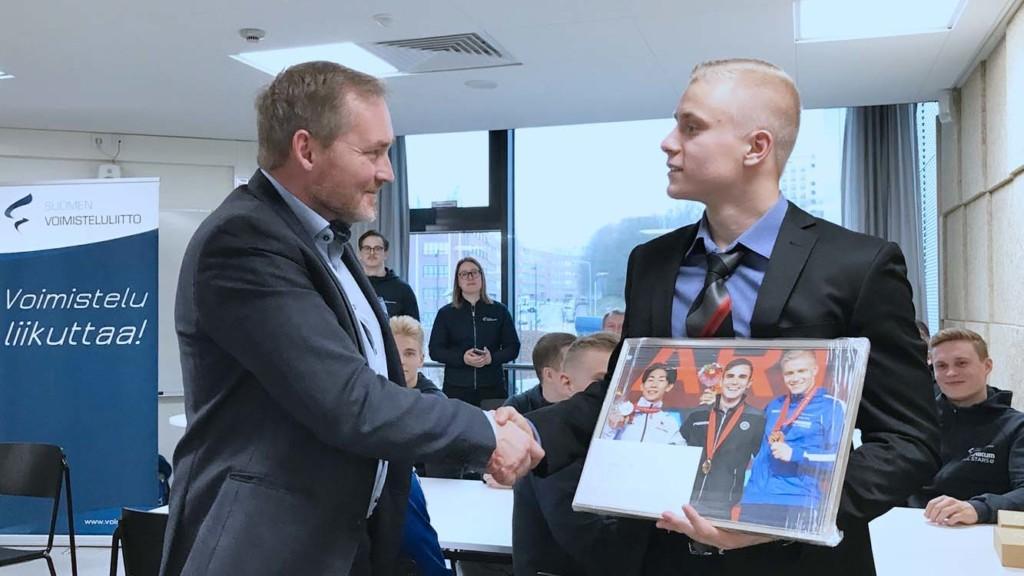 Teknikum congratulates Teknikum All Star athlete Emil Soravuo for his World Championships bronze medal
On Friday, October 29, 2021, Teknikum, the official sponsor and partner of Finnish Men's artistic gymnastics team, joined the celebration taking place at brand new Urhea Olympic Training Center in Helsinki, Finland. Just few days before, on Saturday, October 23, 2021, The 2021 Artistic Gymnastics World Championships ended with a historical Finnish celebration in Kitakyushu, Japan, when Emil Soravuo, 24, took the men's floor exercise bronze medal with 14,700 points. Nicola Bartolini of Italy took the victory with 14,800 points and Japan's Minami Kazuki took second place with 14,766 points.
Mr. Cebastian Doepel, Teknikum Group's Director of Business Development & Compounds BU and Ms. Johanna Valkama, Teknikum Group's Marketing Manager, congratulated the medalist on behalf of the company.
"We thank Emil for being such an inspiration to all current and future Teknikum All Stars, our employees, partners and customers!", Ms. Valkama says.
It was 24 years since the last Artistic Gymnastics World Championship medal was brought to Finland by Mr. Jani Tanskanen, who won the gold on high bar at the time.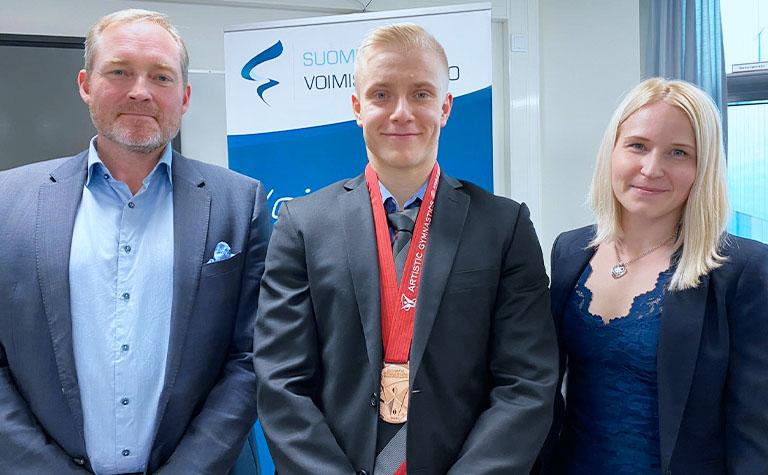 Teknikum congratulates Teknikum All Star gymnast Emil Soravuo for his historical World Championships medal.
Great start for cooperation between Teknikum and Finnish Gymnastics Federation
The Finnish Gymnastics Federation's Men's Artistic Gymnatics team joined the Teknikum All Stars program in September 2021.
The Teknikum All Stars scholarship program supports goal-directed activities of young people in countries where Teknikum operates. The scholarship program is part of Teknikum Group's corporate responsibility strategy.
The aim of the cooperation with Men's artistic gymnatics is to support the coaching and competition activities of the national team, such as training camps and development work. The men's national gymnastics team currently includes a total of 47 gymnasts. The national team consists of the men's national team (11 gymnasts), the youth national team group (14 gymnasts) and the under-14 national team group (22 gymnasts). From the beginning, the cooperation was based on a common world of values, goals and denominators – including the will to succeed internationally in fierce competition.
Just after his bronze medal routine in the final, Mr. Soravuo commented to the inteviewer of Finnish Gymnastics Federation:
"I still can't understand what just happened. I did better in the finals today than many others, and it was rewarded. Maybe sometime in a week or a month I will realize what I did. There is nothing more to say than that the feeling is really happy now."
As a sponsor, Teknikum looks forward to see what kind of bright things the future holds for Mr. Soravuo and for the whole national team of exceptionally hard working and talented gymnasts.
Follow the Finnish Men's Artictic Gymnatics team on Instagram @miestentelinevoimistelu and Teknikum All Stars with hastag #teknikumallstars
Read more:
» The press release on Finnish Gymnastics Federation's website (in Finnish)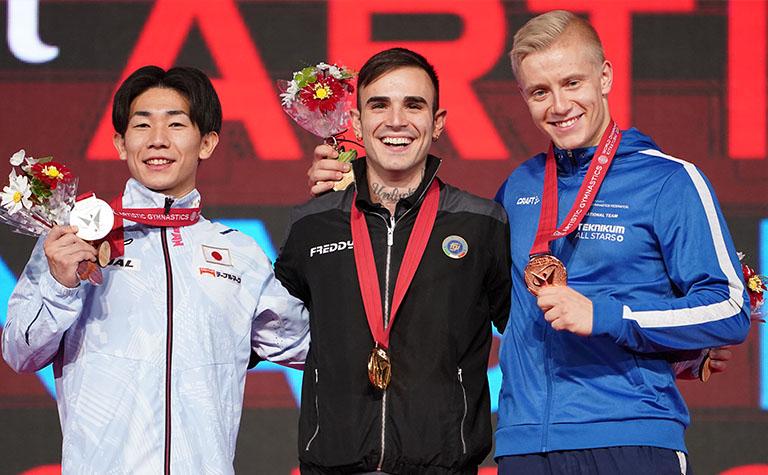 Emil Soravuo (on the right) at 2021 AG World Championships victory seremony.
Photo: Toru Hanai / Stringer / Getty Images.