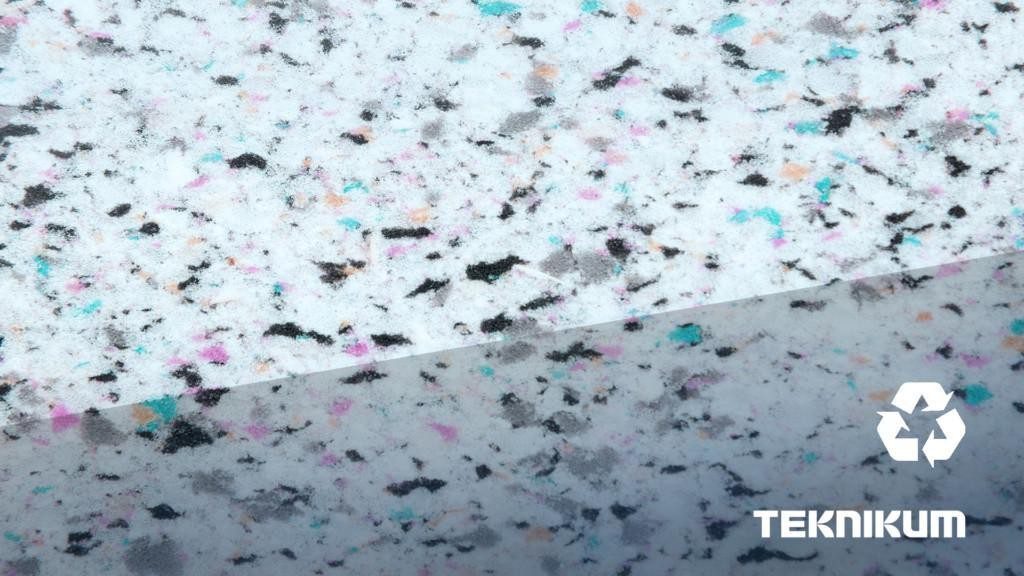 Recycled foam combines the raw material's best features for versatile purposes
Our wide material offering includes carefully selected recycled foam qualities. The sorted out, chopped up, minced down and reconstituted rebound foams do not only solve the industrial waste issue and promote circular economy, but enhance the foam's material composition for various purposes.
The benefits of recycled foams are clear for many use cases – such as sound insulation in engine compartments of vessels and vehicles, compressors and aggregates. As the recycled foam is shredded into small particles and glued together by liquid polyurethane to make so called "Rebond" foam – an open-cell multi-colored polyurethane foam that is firm, supportive and flexible – it creates also great padding material for products like vehicle seats or gymnastics pads.
Sound insulation foam
High-quality foam for sound insulation and noise reduction
Impact & vibration isolation
Extremely firm, dense material
100% recycled and recyclable
Multi-color
Applications: acoustic challenges in buildings and machines
Shock absorber foam
High-quality foam for shock absorbing
Provides sound insulation and noise reduction
Supportive, durable material
100% recycled and recyclable
Multi-color
Applications: sports equipment (gymnastics, wrestling etc.), mats and padding, furniture products, seats
Fire Retardant foam for furniture and furnishings
We are able to provide fire retardant materials according to EN and national standards. In this case the rebound foam is made out of sorted fire retardant materials.
Safe for building and insulation
The rebond foam gains its high density during pressing in manufacturing. The foam material is available as solid blocks or sheets of different thickness. The material can be also coated with folio to gain extra insulation.
Top benefits and features
Environmentally friendly option
Made from selected, sorted open-cell multi-colored polyurethane foams
Available as fire retardant and with metal folio coating
Combines great features of different foam types
Dense, supportive material for various applications
Especially good for sound and shock insulation purposes